<!!--#INCLUDE VIRTUAL="../includes/banner2.shtml" --> About OPLC Classes and Shops Class Descriptions Field Trips Faceters CD Newsletter Club History Meetings Join Us FAQs Bylaws Contact Us Directions to OPLC

Directions to Old Pueblo Lapidary Club

Old Pueblo Lapidary Club is located at 3118 North Dale Avenue, which is near the intersection of North Alvernon Way and Fort Lowell Road in Tucson, Arizona. If you are a GPS user, OPLC is more or less at UTM 12S 0508707, 3569494 (N 32°15'49.7" W 110°54'27.2") NAD27 Datum. Here are some maps and pictures to help you find your way.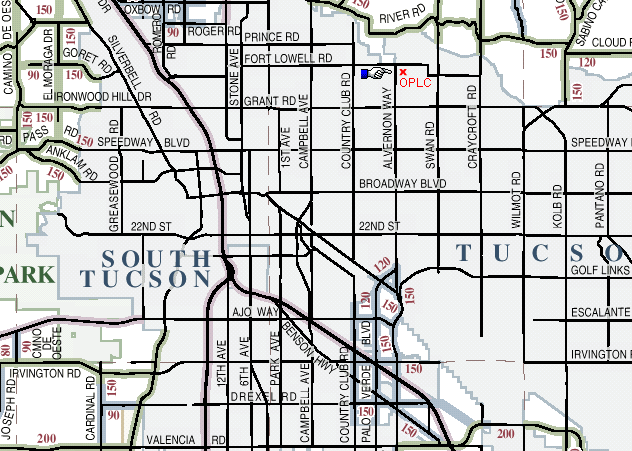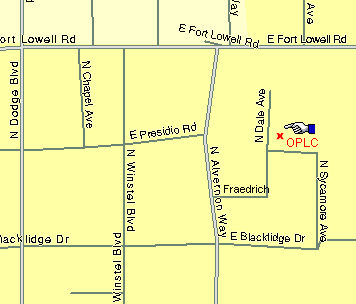 If you are coming to OPLC from the downtown area, go east on Broadway Boulevard until you reach North Alvernon Way and then turn north on same. Northbound on North Alvernon you will cross the following lights at major intersections: Broadway 2.8 miles away; 5th Street 2.3 miles away; Speedway 1.8 miles away; Pima 1.3 miles away; Grant .8 miles away; Glenn .3 miles away. If you are northbound on Alvernon and you reach Fort Lowell Road, you have overshot the turn off on Fraedrich by 2 blocks too far north.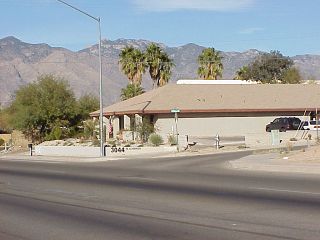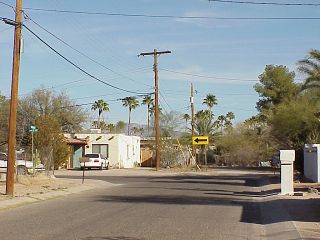 When you reach the intersection of North Alvernon Way and Fraedrich turn east on Fraedrich. Above left is a view where you make the turn off North Alvernon Way onto Fraedrich. Look for "3044 N. Alvernon" on the retaining wall of the building on the northeast corner of at that intersection. Follow Fraedrich one block east where it ends and come around the corner the only way you can turn, which is to the north on North Dale. Above right is the view approaching the turn off Fraedrich onto North Dale.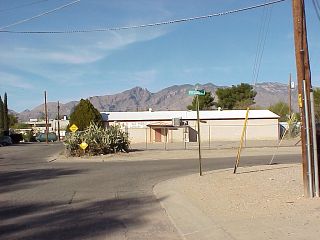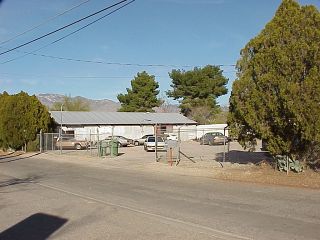 Proceed one block after making the turn off Fraedrich onto North Dale and you will reach the intersection of North Dale and Presidio. The handsome facility you see immediately in front of you on the northeast corner of North Dale and Presidio is the Old Pueblo Lapidary Clubhouse, shown above left. There is parking in front. If that lot should be crowded, just drive another third of a block or so north on North Dale past the dead end sign and park in the rear parking lot between the OPLC clubhouse and shop building, shown above right. Welcome to OPLC!
About OPLC
Classes and Shops
Class Descriptions
Field Trips
Faceters CD
Newsletter
Club History
Meetings
Join Us
FAQs
Bylaws
Contact Us
Directions to OPLC
---
Copyright Old Pueblo Lapidary Club Inc., 3118 North Dale Avenue, Tucson, AZ 85712 Phone: (520) 323-9154
OPAL Server