About OPLC
Classes and Shops
Class Descriptions
Field Trips
Faceters CD
Newsletter
Club History
Meetings
Join Us
FAQs
Bylaws
Contact Us
Directions to OPLC
Old Pueblo Lapidary Club Class Descriptions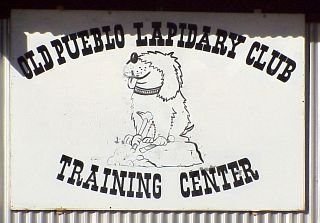 Beginning Faceting:
Instructor: Earl Zoeller C.S.M.
Description: Beginning faceting
Course Length: Six class session for 3 hours each.
Frequency: Every Monday night from 6:00pm to 9:00pm. March 1st through December 10th. Holidays and vacations excepted.
Cost: OPLC Membership is mandatory. Each session is $45.00 fixed cost unless student has all of his own equipment, then $35.00 fixed cost.
Any tools/materials needed for the class: No tools are required. First stone is provided by OPLC (clear quartz). Beginning faceting booklet is provided by OPLC. Meetpoint faceting will be required for continuing students. With my guidance and the student's approval the approximate cost is $15.00. DO NOT PURCHASE any stones for use in this class until you have completed the first class period.
Advanced Faceting:
Description: Advanced faceting group plus one or two novices, NOT a structured class!.
Cost: $40 punch card if club equipment is used, $20 if personal equipment is used
Any tools/materials: none required, all supplies are available in the lab
Beginning Silversmithing:
Description: Fabrication of sterling silver pendant with a cabochon
Course Length: 4 weeks, 3 hour sessions; classes offered as needed
Frequency: classes offered as needed, sign-up sheet is in the clubhouse
Cost: $60 to OPLC plus cost of materials - $40 - $60 for silver, this will allow you to make more than one pendant, depending on the size of each.
Tools: The club has all the tools you will need. However, if you have your own, bring them.
About OPLC
Classes and Shops
Class Descriptions
Field Trips
Faceters CD
Newsletter
Club History
Meetings
Join Us
FAQs
Bylaws
Contact Us
Directions to OPLC
---
Copyright Old Pueblo Lapidary Club Inc., 3118 North Dale Avenue, Tucson, AZ 85712 Phone: (520) 323-9154
OPAL Server